Shri Kanchi Kamakoti Peetam Cultural Exhibition Vedal, Kanchipuram


With the blessings of Their Holiness Pujyasri Sankaracharya Swamijis of Sri Kanchi Kamakoti Peetam, a cultural exhibition and a photo gallery is functioning at Vedal, 5 kms from Kanchipuram. It is located on the National Highway from Chennai to Bengaluru (NH4). Google Map Location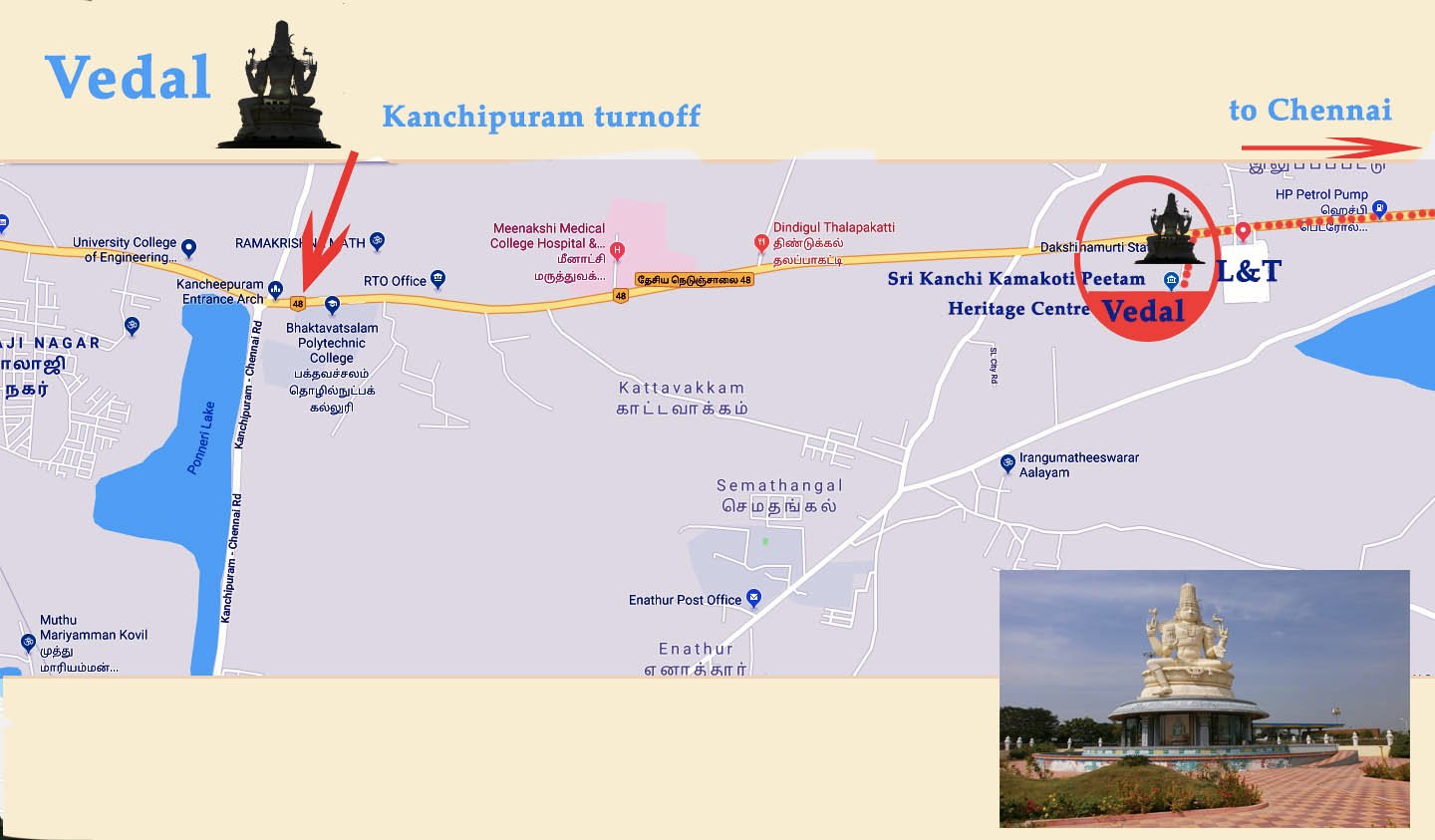 HIGHLIGHTS - What is on display in the Exhibition :
A huge statue of Shiva with Nandi - Pradosham is celebrated in a grand manner.
Rare photographs and articles used by HH Pujyashri Chandrasekharendra Saraswathi Mahaswamigal
Rare photographs of yatras undertaken by the Acharyas of Sri Kanchi Kamakoti Peetam
Musical Instruments of various types
Ramayana - Animated dolls exhibition
Mahabharata - Animated dolls exhibition
Krishna Leela - Animated dolls exhibition
Shankaracharya Charitra - Animated dolls exhibition
Cultural Exhibition
The Cultural Exhibition is one of its kind and has the great epics Ramayana, Mahabharata, Krishna Leela and Sri Sankaracharya Charitram depicted in the form of animated dolls. Craftsmen from North India were specially engaged to create this marvel, which showcases our epics in an innovative way, attractive to both the young and elders.

Still photos of
The Shankaracharya Charitram from the Exhibition


Photo Gallery
A photo gallery containing a vast collection of the pictures of Pujyasri Chandrasekhrendra Saraswathi Mahaswamiji, Pujyasri Jayendra Saraswathi Sankaracharya Swamiji and Pujyasri Sankara Vijayendra Saraswathi Sankaracharya Swamiji.

Musical instruments on display
A separate wing contains a collection of musical instruments from all over the country. With all these wonderful collections under a single roof, a visitor to Kanchi must make it a point to visit this centre at Vedal.




Helpful notes to visitors:
The centre is located at Vedal, on the National Highway 4 connecting Chennai and Bangalore, and just before the lane to Enathur and 4 kms before the lane to Kanchipuram(while travelling from Chennai).
There is an L& T engineering unit just before the centre and a Bharat Petroleum Pump just after the centre.

The centre is open from 7.30 am to 6.30 pm..
Ample parking space is available (even for buses).
Tourists can plan to visit this centre especially during the temple break timings in the afternoon (12 pm to 4 pm).
Also Read: