Page load depends on your network speed. Thank you for your patience. You may also report the error.
Loading...
Sri Chandramoulisvaraya Namah:
Adi Shankara Cultural Resource Initiative-
Vaikhanasa Patashala commenced
25 October 2012 - Avadi, Chennai
To sustain the traditions of our country, His Holiness Pujya Shri Shankaracharya of Shri Kanchi Kamakoti Peetham has envisaged a tradition-based contemporary education system wherein in addition to attending regular school, the student learns the Vedas and Sanskrit language thereby inculcating in him our ancient Shastras, culture, moral values along with contemporary readiness and scientific temper.
With the Blessings of His Holiness Pujya Shri Jayendra Saraswati Shankaracharya Swamiji and His Holiness Pujya Shri Shankara Vijayendra Saraswati Shankaracharya Swamiji, the management of Jaigopal Garodia Vivekananda Vidyalaya, Avadi, Chennai, has gladly taken up the task of implementing this significant scheme envisaged by the Acharyas.
The Patashala commenced today with the performance of various homams and parayanams to invoke divine blessings. Special pujas were performed to Sri Ganesha, Devi Saraswathi, Sri Venkateswara Swamy and Pujyasri Shankaracharya Swamijis. The children along with their parents, teachers, as well as members of the management participated in the programme. The youngest children belong to the II standard. Similar integrated Patashalas that offer a blend of traditional and contemporary education are functioning at other centres.

Yagna in the benign presence of Sri Venkateswara Swamy

Sankalpam

Sankalpam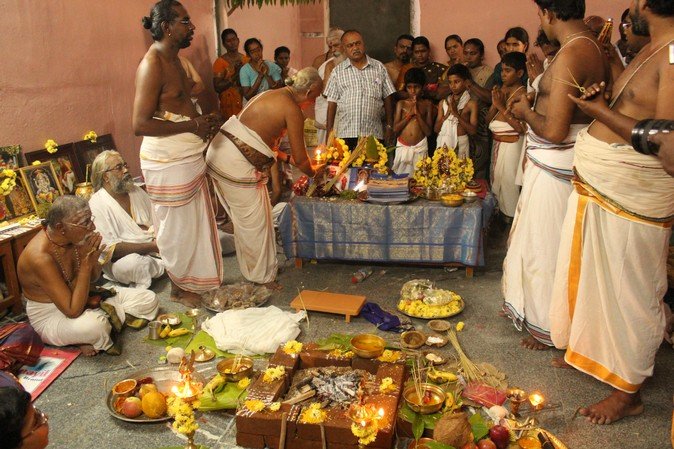 Deeparadhana

Students being given Vishnu Sahasranama book, Dhoti and panchapatram set by Srimatam

Vidyarthis participating in the homam

Poornahuti
---