Page load depends on your network speed. Thank you for your patience. You may also report the error.
Loading...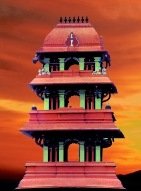 Sri Shankara Jayanthi Mahotsavam
16 -20 April 2018
Sri Shankara Jayanthi Mahotsavam will be celebrated from 16 to 20 April 2018 at Shrimatam, Kanchipuram with the Blessings of Jagadguru Pujya Shri Shankaracharya Swamijis of Sri Kanchi Kamakoti Peetam.

Veda Parayanam, Bhashya Parayanam, Bhajans, Shloka parayanams, discourses etc. will be held.
On 20th April 2018 - Shankara Jayanti day (Friday), Mahanyasam and Rudra Japam will commence in the morning and conclude with Rudrabhishekam to Sri Acharyal by noon. Devotees are invited to participate in this Jayanti Mahotsvam and be the recipient of the blessings of Sri Adi Shankaracharya and the Guru Parampara.
List of Discourses from 16- 120 April 2018 (at 6 pm)

| Date | Topic | Speaker |
| --- | --- | --- |
| 16-Apr.(Mon) | Sadvidya | Sri Mani Dravid Sastrigal |
| 17-Apr.(Tuw) | Mandukya Upanishad | Sri Krishnamurthy Sastrigal |
| 18-Apr.(Wed) | Sri Subrahmanya Bhujangam | Sri Ramana Sarma, Nerur |
| 19-Apr.(Thu) | Bhajagovindam | Sri Ramasubramanya Shamra |
| 20-Apr.(Fri) | Kshetra Yagnya Bhogam (13th Chapter) | Sri Maheswara Sharma |
---