Page load depends on your network speed. Thank you for your patience. You may also report the error.
Loading...
Sharada Navaratri Mahotsavam at
Shri Kanchi Kamakshi Ambal Temple
3 - 15 Oct. 2013
With the blessings of Their Holinesses Pujyasri Shankaracharya Swamijis of Sri Kanchi Kamakoti Peetam, Sarada Navaratri Mahotsavam in the current 'Vijaya Year' will be celebrated at Sri Kamakshi Ambal Temple, Kanchipuram from 3 to 15 October 2013. Special Pujas and alankaram will be performed to Sri Kamakshi Amman. Cultural programmes will be performed every evening as part of the Navaratri celebrations.
The utsavam will commence with Chandi Homam, Angurarpanam and Rakshabandhanam on Thursday - 3 October 2013 in the morning. Soorasamharam will take place from Friday 4 October 2013 upto 11 October 2013. Vijayadashami will be celebrated on 13 October 2013. Teertavari will take place in the morning that day and the Golden Chariot Utsavam will be performed in the evening.
Cultural Programmes will be held as part of the Navaratri Mahotsavam in Kamakshi Ambal temple. The Sangeeta Mummoorthigal Vizha and Sangeeta Vidwat Sadas will be held on 4 October 2013. The title of "Astana Vidwan of Shri Kanchi Kamakoti Peetam" will be conferred on senior artists. Details are given below: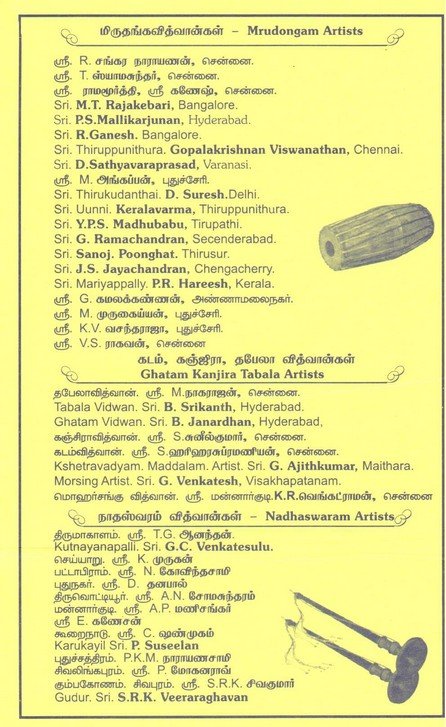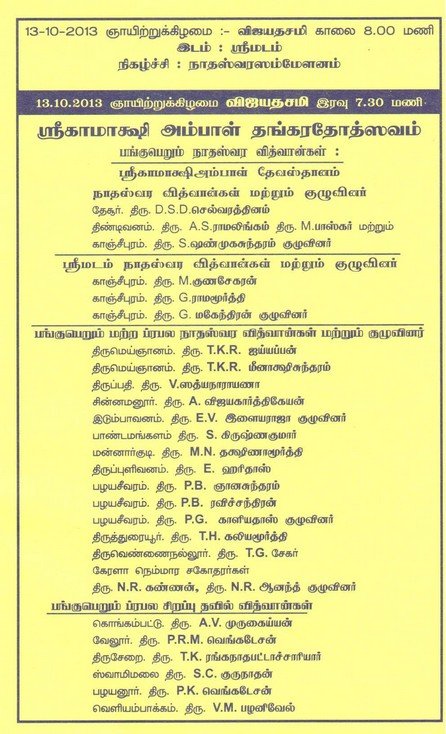 ---