Shri Kanchi Kamakoti Peetam's Vriddhashram at Nazarathpet, Poonamallee
Service to mankind is service to God. Sri Kanchi Kamakoti Peetam has been providing service to the needy through various forms and the old-age homes established in various places is the means by which the elderly are taken care of. His Holiness Pujyasri Jayendra Saraswathi Shankaracharaya Swamiji established the old-age home (Vriddhashram) at Nazarathpet inside the Shri Jayendra Saraswati Ayurveda College & Hospital, on the Chennai-Bangalore Road (N.H.4), near Poonamalle, Chennai. in the year 1993.
This home is presently managed by "Dharma Prabodhana Trust", of Sri Kanchi Kamakoti Peetam. The old-age home has a capacity of housing 42 members and presently, 39 inmates are staying in it. 29 inmates are ladies and 10 are gents.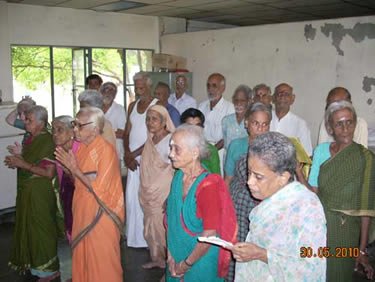 The day starts with playing Suprabhatam/devotional songs/Karnatic music, over tape recorder for these people followed by coffee @ 5.30am. Lunch is provided by 10.30am, Tea with snacks is offered by 3.15 pm and dinner by 7.00pm. All rooms are furnished and provided with fans, lights and of course the ubiquitous Telivision Set with cable connection which is used for recreation by the inmates. Each inmate is provided with a bed with cot and an iron almirah to keep their belongings. The inmates recite Vishnu Sahasranaamam and Totakaashtakam every day by 3.30pm at the prayer hall. Festivals like Gokulaashtami, Ganesh Chaturthi are celebrated with fervor and gaiety.Shri..N. Padmanabha Iyer is Managing the Ashram and receipt for donation to the Ashram is immediately issued to the donors. Even when any of the inmates attain the lotus feet of God, the close relatives are informed over phone and if none turns up for "antima samskara" (last rites), the management takes up that responsibility too.
Contributions from well-wishers and philanthropists
Two geysers for providing hot water to the inmates has been donated by a well-wisher.
Rice in bags is supplied by one Shri. Nagarajan, volunteer of Kanchi Mutt who collects it through "Pidi arisi thittam"(collecting a hand full of rice from all houses who donate it).
Samaradhanai scheme is adopted here where in a person can feed the inmates for a day with Vadai & Payasam along with special items like additional koottu, pachidi, curry etc., by paying Rs.2500/-( Rupees Two thousand five hundred ). Several people use this scheme for celebrating the functions like janmanakshatram etc., of their kith and kin and also to perpetuate the memory of their parents on their day of ceremony.
The doctors and intern medicos of the Ayurveda College provide free Medicare for the inmates and the college also provides free Ayurvedic medicines to them. It also treats them in its in-patient wards as and when somebody from old age home falls sick and requires hospitalization.
Rotary club of Chennai has taken initiative to provide bread and rusks thrice a week which caters to the needs of all the inmates for the entire week. They provide soap powder also every month for washing the clothes of inmates. Two washing machines were donated by a well-wisher of the home.
The Vriddhashram manager can be contacted at 044- 26491822.
Shri Kanchi Kamakoti Peetam runs similar Vriddhashrams at Kalavai and Sri Kalahasti.
Location of the Ayurveda College and Old Age Home:
---
Back to the News Page