Annual Agnihotra Sabha held at Varanasi

06-08-2023

Agnihotra Sabha
5-7, August, Varanasi Kshetram
With the benign blessings of Pujya Sri Shankara Vijayendra Saraswathi Shankaracharya Swamigal, the annual Agnihotri Sabha was held at Varanasi Kshetram from 5th onwards till today. Yesterday, a very special Sanman Sabha was held at the Sabha venue at Chet Singh Fort grounds. Sarsanghchalak of Rashtriya Swayamsevak Sangh Sri Mohan Bhagavat Ji took part in the proceedings. Sri Bhagavatji was received by Kanchi Math officials & devotees in Ganga-front. After Darshan of His Holiness, he had darshan of Agnihotra Vedi, Kamyeshti Vedi, Panchangni Vedi where special Anushthanams were performed with the blessings of His Holiness for Loka-Kashema. The Yagnya Vedi vibrated with Rig Veda Shastra Parayan, Yajur Veda Ghana Parayanam and Samaveda Shastra Parayanam. Viewing the Agnihotri Exhibition, His Holiness explained to Sri Bhagavatji the various Vedic practices and traditions which are prevailing in our country since ancient times.
Two books on Bhashyas of Ashvalayana Gruhya Sutra & Apastamba Gruhya Sutra authored by Brahmasri Sundarrama Vajapeyayaji and his son Sri Narayana Vajapeyayajee were released on the occasion. His Holiness released the books and Sri Bhagavatji received them. Sri Prabhakar Joglekar was given the Ashvalayana Shrouta Sutra Bhashya and Sri Kashi Narayana Ghanapathi was given the Apastamba Shrouta Sutra Bhashya book. Also books on culture & traditions were released during the function.
Following this Sarsanghchalak Sri Mohan Bhagavatji spoke on Vedic & Agnihotri traditions as India's treasures and that it should be protected. Sri Bhagavatji said that these are seeds of Dharma and they should be nurtured. Pujya Shankaracharya Swamiji in his Anugraha Bhashanam spoke about the expanse of Agnihotra traditions beyond India's borders in ancient times. His Holiness said while India has achieved independence and is developing, we should also develop Dharmic thoughts and protect our ancient culture & traditions. His Holiness mentioned about Digital India and stressed the need to develop Divine India. His Holiness talked about protecting temple, temple traditions and temple assets. Temple donations should be used only for Dharmic work, He stressed. His Holiness said that Seva through Mantras "Mantron Se Manav Seva" is being done by the Agnihotris of our country. His Holiness said that there are such subjects in Sanātana Dharma which are deep and wide but needed presentation & distribution. He said this Dharma has both Vignan & Vishwas and prays for welfare of one & all.
About 120 Agnihotris & senior scholars from all over the country including Kerala, Karnataka, Tamilnadu, Andhra Pradesh, Maharashtra, Rajasthan participated in the event. In the divine presence of His Holiness, Sri Mohan Bhagavatji draped all the Agnihotris with special shawls and were honoured with gold coin, silver Patra, Vastram etc. Special dignitaries from Kashi city attended the event. Sri Girish Chandra Sharma Former Vice Chancellor, Sri Vajpayi MLA of
#Prayagraj
and his parents, Agarwal Sangh, Pracharaks and devotees & common people attended the event. The event concluded with Shanti Path praying for peace and progress of one & all.
#kamakoti
#Agnihotra
#Varanasi
Hara Hara Shankara Jaya Jaya Shankara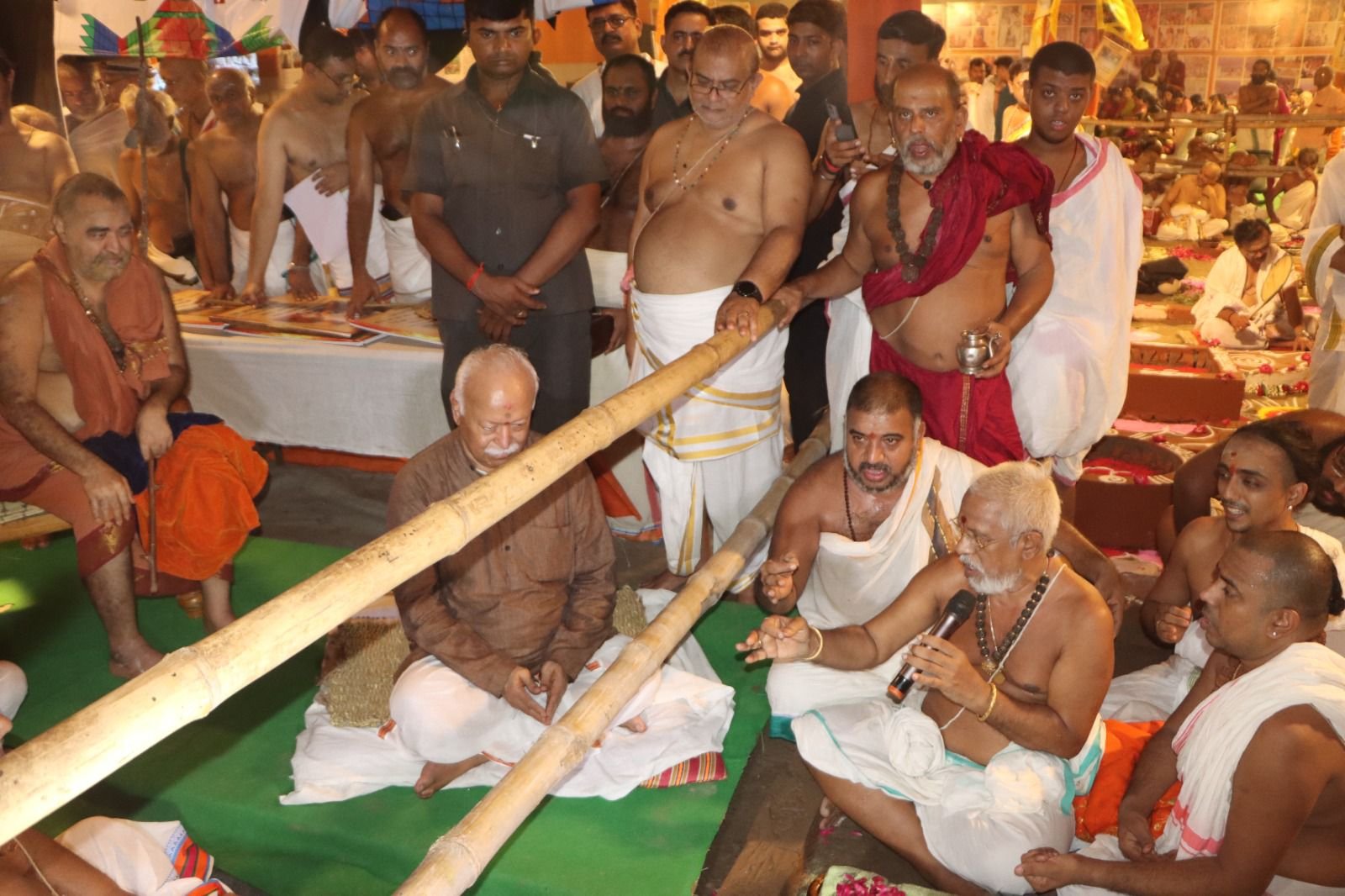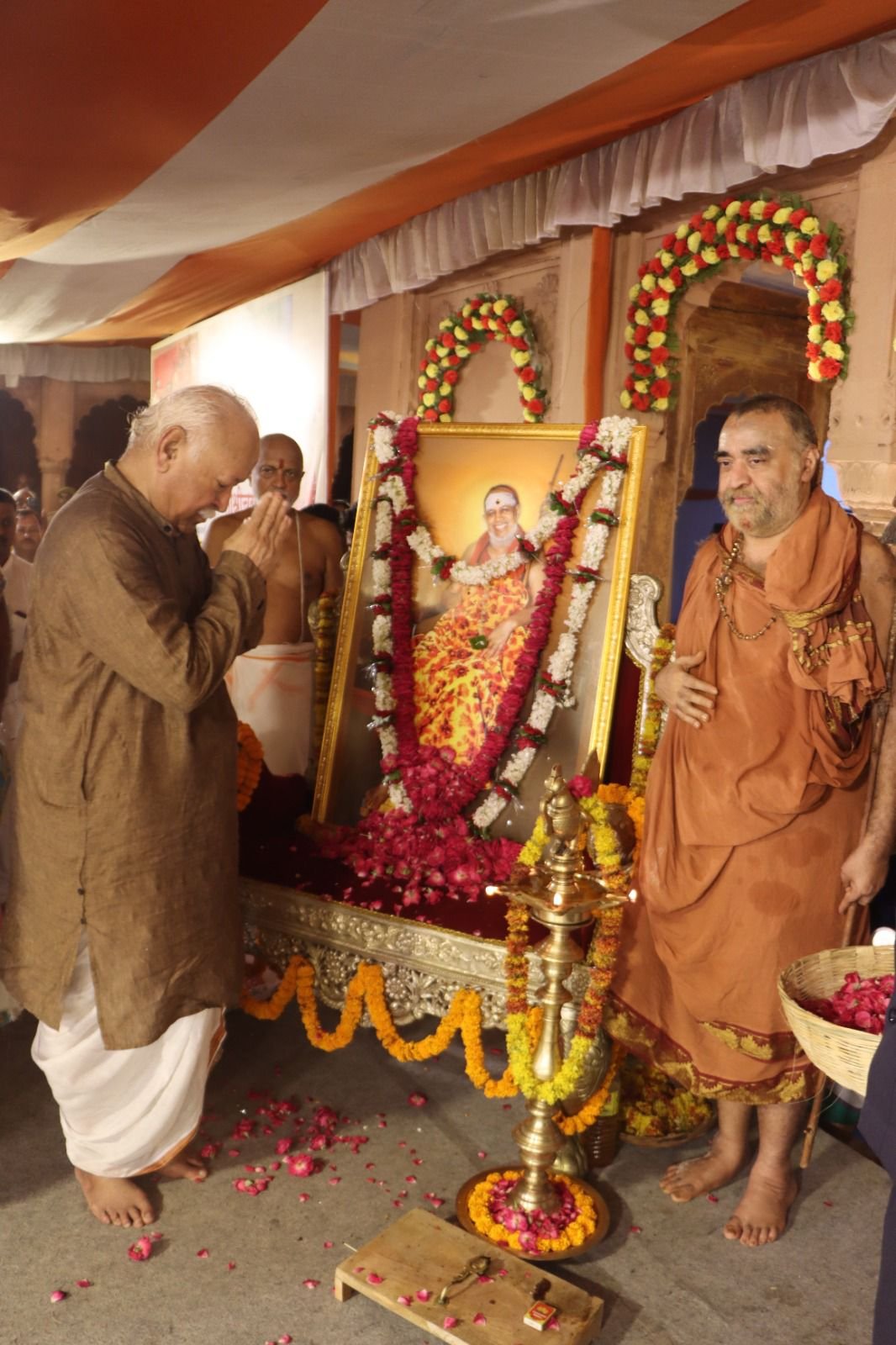 ---
Prev.::Adi Perukku celebrated at Shrimatam camp at Varanasi
Next.::Agnihotra Sabha - reports from the press