Shri Ram Janmabhoomi Mandir Nirmaan Samarpan Samaroh held

01-02-2021

Sri Ram Janmabhoomi Mandir Nirmaan Samarpan Samaroh held -
1 Feb. 2021, Kanchipuram
Contribution by devotees towards the construction of Sri Ram Temple at Ayodhya Sri Ram Janmabhoomi totalling more than 6.2 Crores was handed over to the Sri Ram Janmabhoomi Teertha Kshetra Trust at a programme held this evening at Sri Kanchi Kamakoti Peetam, Kanchipuram. The Hon'ble Governor of Tamilnadu Sri Banwarilal Purohit delivered the presidential address. HH Pujyashri Shankara Vijayendra Saraswathi Shankaracharya Swamigal blessed the occasion with Anugraha Bhashanam. Pujyasri Viswaprasanna Teertha Swamigal of Pejawar Math, Udupi, and Sri Govind Dev Giriji, member trustee and Treasurer of Sri Ram Janma Bhoomi Teertha Kshetra Trust spoke on the occasion. JEO of Tirumala Tirupati Devasthanams Sri Dharma Reddy and other officials and priests presented the prasadams of Sri Venkateswara Swami to His Holiness. Scholars and Exponents of Ramayana in various languages and forms were honoured in the function.
Earlier, Ganapati Homam, Rama Sadakshari Homam and Sri Sukta Homam was performed in the morning and the poornahuti took place in the presence of Pujyashri Shankaracharya Swamigal, who performed abhishekam to Sri Ramachandra Murti. Bhajans were rendered throughout the day.
Devotees from far and wide contributed towards the Mandir Construction sending their contributions as cheque/ DDs. At Shrimatam, two hundis were kept to collect contributions in cash and kind from devotees on the 1st Feb. 2021. Hundreds of devotees from all walks of life including students contributed through the same. A senior Veda Pandit associated with the Matam even at his ripe age of 93 years came in person and handed over his contribution of Rs.10,000/-. He was blessed and honoured by Pujyashri Acharyal. An ardent devotee of our Shrimatam Manikudi V Mohan contributed Rs. 5 Crores towards the Ram Mandir Nirmaan. More than 43 donors contributed above Rs. 1 Lakh. Shri S Vedantam, former president of Vishwa Hindu Parishad participated and handed over his personal contribution as well as those of Vishwa Hindu Kendra Trust and other bodies.Sri Govind Giriji made his personal contribution of Rs. 11 Lakhs on the occasion.
List of important donors:
RAJALAKSHMI JAYARAMAN ENTERPRISES PVT- Bangalore, SRI SHYAM SEVA SAMITI-Hyderabad, KRISOW PERFORMANCE FLUIDS INC-Hyderabad, VENCHEM CONSULTANTAS LLP-Hyderabad, KRISHNAMACHARI R P- Chennai, SHRI KANCHI KAMAKOTI PEETAM SHRI ADYA SHANKARA MANDIR TRUST- Pune, JAIGOPAL GARODIA HINDU VIDYALAYA MAT. HR. SCHOOL- Chennai, SRI. S. NARASIMHAN- Chennai, BABU SAREES PVT LTD- Kanchipuram, VEDA MARKETTING- Hyderabad, MAGANTY SATYANARAYA MURTHY- Hyderabad, VIDYANIKETAN PUBLIC SCHOOL- Bengaluru, DR. GIRIJA SESHADRI- Chennai, KAALLKAA CONSTRUCTION- Secunderabad, Sri ARJUN NATRAJ- Kazhipattur,PAWAN OIL INDUSTRIES- Hyderabad, SRI R.BALAKRISHNAN-Chennai,R SUNDARESAN- Bengaluru, Sri TS VENKATARAMAN /N SUNDAR- Chennai, Sri NATARAJAN SUNDAR- Chennai, SHIVADAT RAI BILAS RAI CHARITABLE TRUST- Secunderabad, SRI SANKARA EDUCATIONAL TRUST- Chennai, SRI KANCHI KAMAKOTI PEETA CHENNAPURI BAKTHA JANA SAMAJAM- Chennai, M/S. FURA CONSULTANTS- Hyderabad, SRI A BHASKARAN- Chennai, Sankara Eye Hospital- Chennai, Sankara Health, Education & Charitable Trust- Chennai,Sri Sankara Vidyalaya Matriculation Higher Secondary School- Chennai, Sri S Visvanathan- Chennai, SJSSDJ Educational & Health Trust- Chennai, SRI SANKARA ARTS & SCIENCE COLLEGE ALUMNI ASSOLIATION- Kanchipuram, SRI SANKARA ARTS & SCIENCE COLLEGE- Kanchipuram, SRI RAMA CHARITABLE TRUST- Trivandrum, Sri M. SIVARAMAN-Coimbatore, JANA KALYAN- Chennai, MS. GAYATHRI.N, Sri V KRISHNA YASHOVARDHAN MAGANTY- Hyderabad, M/S AGARWAL FOUNDRIES- Secunderabad, GULABRAI KANTILAL SEVA NIDHI TRUST- Secunderabad, Sri AMIT AGARWAL- Secunderabad, VISHVA HINDU KENDRA TRUST- Chennai, Sri S. VEDANTAM- Chennai, Sri S.K. COMAL-Chennai
List of Ramayana Exponents and Scholars Honoured:
Sri Mullaivasal Dr. Krishnamurti Sastrigal- Former principal of the Madras Sanskrit College, Sengalipuram Sri Rama Deekshitar, Prof. Pulavar Ma Ve Pasupati, Chenai MGR Medical College VC Dr. Sudha Seshaiyyan and Erode Sri Balaji Bhagvatar
ANUGRAHA BHASHANAM OF HH PUJYAHSRI SHANKARACHARYA SWAMIGAL (in Tamil)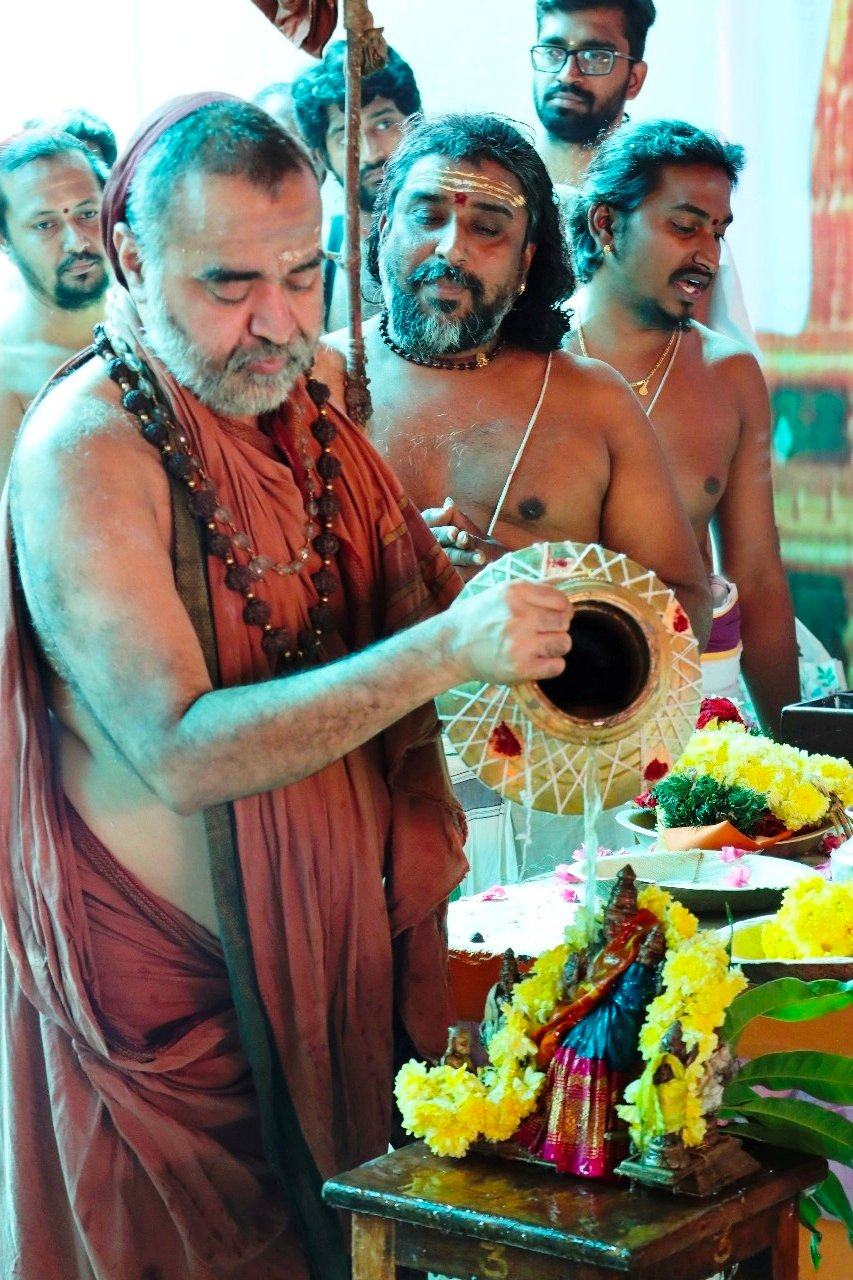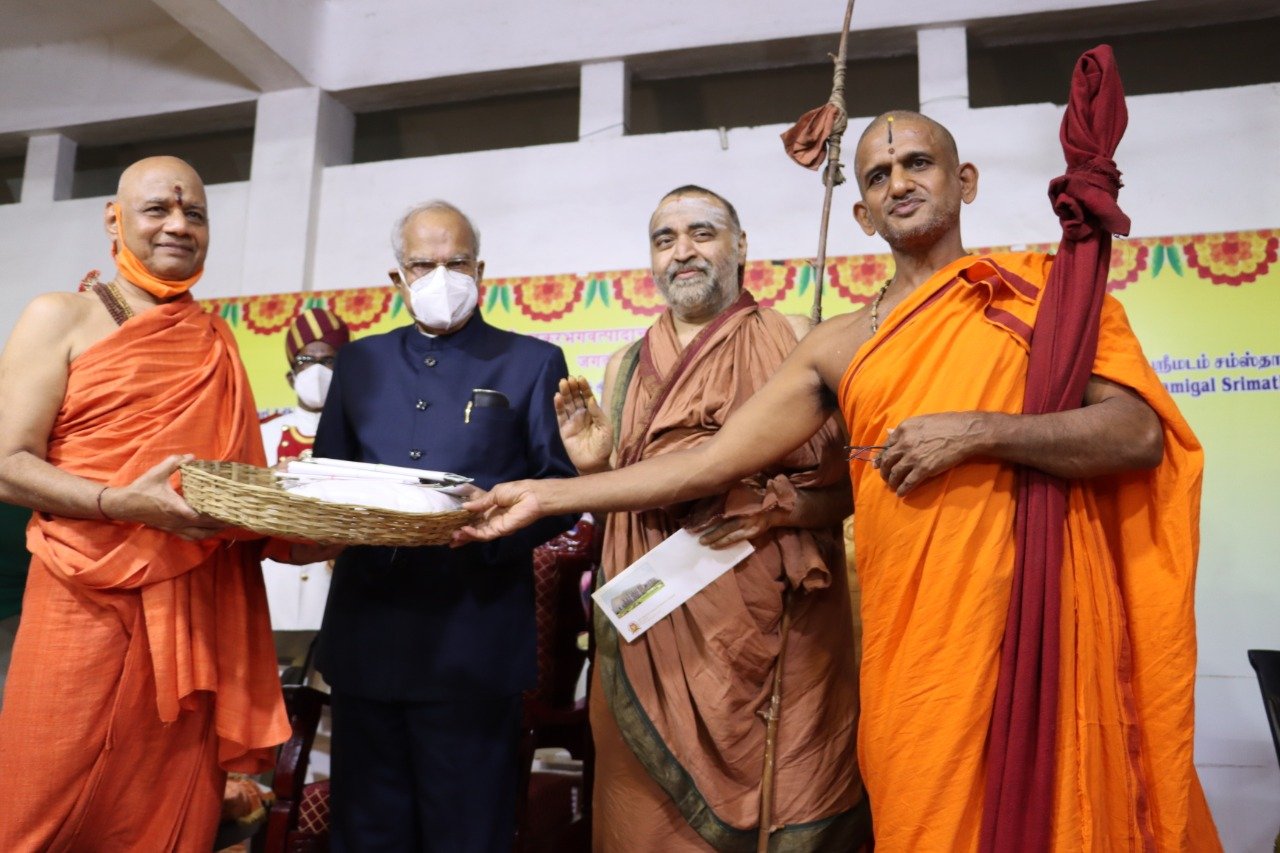 From the press
Kancheepuram's connection with Ayodhya historic- TN Guv
PTI February 01, 2021 22:26 IST
Kancheepuram (TN) Feb 1 (PTI) The ancient Sri Kamakshi Amman temple and the Shankara mutt here have a divine and historical connection with Ayodhya, the birth place of Lord Ram, Tamil Nadu Governor Banwarilal Purohit said on Monday. The Kanchi Shankaracharyas have been closely associated with efforts for a temple for Lord Ram at Ayodhya, he said, presiding over a function organised by the mutt to hand over contributions made by devotees to Treasurer of the Sri Ram Janma Bhumi Theertha Kshetra Trust Swami Govind Dev Giri. Purohit recalled the role played by various Kanchi Acharyas for materialising the Ram temple till the present pontiff Vijayendra Saraswathi. Prime Minister Narendra Modi performed the Bhoomi Pooja for the construction of the Ram temple at Ayodhya on August 5 last year. The event coincided with the 86th Jayanthi Mahotsav of Jayendra Saraswathi. In 1986, as per the instructions of then mutt head sri Chandrasekharendra Saraswathi, his successor Jayendra Saraswathi dedicated a beautiful silk ceremonial umbrella (Chatram) and two 'samarams' from Kancheepuram to Ayodhya. "The Pandits sent by Sri Mahaswami stayed in Ayodhya for a week and recited Valmiki and Hindi Tulasi Ramayana in the precinct of Sri Ram Janma Bhoomi as instructed by Sri Mahaswami," Purohit said. In the early 90s, Jayendra Saraswathi took special interest to secure Janma Bhoomi for Sri Ram by bringing all concerned to a negotiating table and to make the dream of the temple there a reality, Purohit said. His successor Sri Vijayendhra Saraswathi has given a call to all devotees to donate liberally and contribute to the fund for the construction of Ram Mandir, the Governor said. Udupi Pejawar mutt chief Swami Vishwa Prasanna Teertha and Govind Dev Giri and others spoke on the occasion. PTI
Source:https://www.theweek.in/wire-updates/national/2021/02/01/mes9-tn-ram-temple-purohit.html

---
List of Donors(in addition to ones mentioned above)

	Sri B. SUNDARKUMAR, Chennai
SMT. UMA SHIVARAM,MUMBAI
Sm. S. CHELLAMMAL	C/O. PARTHASARATHY, CHENNAI - 61
Sri V. SETHURMAN / N. SUNDAR, CHENNAI - 600017
Sri V. SRIDHARAN, SALEM-636002
SKANDAGIRI SRI SUBRAMANYA SWAMY SANATHANA DHARMA TRUST, HYDERABAD 500025
HINDU SEVA SAMAJAM TRUST, CHENNAI - 600097
Sri Sath Sangam, Chennai - 600075
Sri B. RAMAN, CHENNAI - 28
Sri VISVANATHAN SHANKAR, CHENNAI - 75
MR.SRIRAM, CHENNAI 600083
Sri N. SUNDARESAN, KANCHIPURAM
SRI V BALASUBRAMANIAN, CHENNAI -600090
Sri V. MAHALINGAM, CHENNAI - 28
SRI JAYENDRA SARASWATHI SWAMIGAL GOLDEN JUBILEE MAT.HR.SEC.SCHOOL,	SANKAR NAGAR,            TIRUNELVELI - 627357 
Sri N RAMAN, CHENNAI - 600018
Prof. J S N MURTHY, CHENNAI - 116
Sri J. VENKATRAMAN, CHENNAI-102
Sri R. SUBRAMANIAN, CHENNAI-18
Sri R. GOPALAKRISHNAN, CHENNAI - 28
Sri JAYARAMAKRISHNAN, CHENNAI - 4
NATIONAL SERVICE STATION, SECUNDERABAD - 500026
JAIGOPAL GARODIA HINDU VIDYALAYA MAT. HR. SCHOOL, CHENNAI - 17
MR.S.SWAMINATHAN, CHENNAI 600004
PROF.K.N.RANGANATHAN, CHENNAI - 600017
GOMA-DHARMA TRUST	
DR. D. RAMA SUBRAMANIAN, MADURAI-625003
SRI N.GANESAN, BANGALORE - 560003
SMT R.SUNDARAMBAL, CHENNAI - 600020
Sri PITCHAN, KANCHIPURAM
Sri K. SRINIVASAN, COIMBATORE - 641042
Smt. SAVITHRI SRINIVASAN, CHENNAI -602024
MS.VIJAYA NK,	BANGLORE
Sri A. VENUGOPAL,KANCHIPURAM - 631501
Sri M.Viswanathan, Chennai-20.
Sri S. RAVI CHANDRAN,	S. VEERASAMI, KANCHIPURAM - 631501
Sri ANAND KRISHNAN, CHENNAI - 600097
Sri T R MEHTA, KANCHIPURAM
Sri K. SRINIVASAN, CHENNAI - 41 
Sri BHARATH BALASUBRAMANIAN, CHENNAI - 32
Sri VENKATESWARAN K.S, CHENNAI-4
Sri R. SRIRAM, CHENNAI - 17
Sri S. RAMASAMY, CH-15
Sri CHANDRASHEKAR MAHALINGAM, CH-20
Sri NATARAJAN, CHENNAI-20
MRS. SRIVIDHYA RAMESH RAMU, PUNE-411038
Sri VENKATRAMAN RAMU, PUNE-411038
MR.N.V.RAM, CHENNAI 600041
SRI M.RAMAKRISHNAN, CHENNAI - 600097
SRI A.KRISHNAMURTHY, CHENNAI - 600078
SMT LAKSHMI VAIDYANATHA IYER CHARITABLE TRUST, CHENNAI - 600088
Sri G VISWESWARAN, CHENNAI - 600088
MRS. MEENA KRISHNAMURTHY, CHENNAI - 600033
Sri R. SUNDAR, CHENNAI - 600010
Sri Sri A Muthuvelu, Chennai - 600044
Smt. K. RADHA C/O. OXFORD MATRIC HR. SCHOOL, CHENNAI - 17
Sri S.K. RAMAN, CHENNAI - 42
Sri K. JAYARAMAN, CHENNAI-102
Sri K. JANAKA SUDHA
Sri N RAJAGOPALAN, AVADI - 600071
MRS INDARA NAGARAJAN, CHENNAI-28
Smt. RADHA GOPALAKRISHNAN, CHENNAI-600017
Smt. V.G. BHARATHI	C/O. SRI RAMA LODGE, KANCHIPURAM
Sri SHRI. P. NATARAJAN, KANCHIPURAM
MR.S.A.BALASUBRAMANYAM, CHENNAI 600004
MRS. PREMALATHA MURALIDHARAN, Chennai-600017
MR.SOMASUNDARAM N &  MRS.HEMA SOMASUNDARAM	BANGLORE
Sri M.V. ADISESHU, KANCHIPURAM-631501
Smt Kavitha Rammanohar	C/o.Geetha Moorthy, Chennai - 600044
MR.S.SIVA SUBRAMANIAN, CHENNAI 600006
Sri L.B. JAYARAM, CHENNAI - 28
Sri T. SIVASHANKAR, CHENNAI - 33
MR.R.SANKARAN & MRS.PADMA SANKARAN,CHENNAI 
Smt V.K. PADMAVATHI	, CHENNAI-64
SRI SUNDAR RAMANI CHARITABLE TRUST 	K.KALYANARAMAN, CHENNAI - 600004 
KKR FACILITIES MANAGEMENT INC, K.KALYANARAMAN, CHENNAI - 600004 
SRI L.SURESH, CHENNAI - 600004
SMT RAMA SURESH, CHENNAI - 600004
Sri S. JANAKIRMAN IYER	C/O. R. THAGARAJAN, VADODARA - 390008
Sri T. VENKATESH MEHTA, CHENNAI - 10
Sri J. VARUN MEHTA, CHENAI - 600010
Sri R. ARUN KUMAR MEHTA, CHENNAI - 600010
Sri S Krishnan, Chennai - 600075
Sri K Vaideeswaran, Chennai - 600059
Sri R. VENKATA NARAYANAN, CHENNAI-61
Sri N. SUDARSANA MEHTA, CHENNAI - 4
Sri VIBHAV PARTHASARATHY, BENGALURE - 560064
Sri B. VENKATARAMANAN	C/O. R. SUNDARESAN, BANGALORE - 46
Sri S. JAYARAMAN, CHENNAI-24
Sri CHANDRASHEKAR MAHALINGAM, CH-20
Sri RANJIT V SRIVATSA, CH-34
Sri T. SUBRAYA MEHTA, CHENNAI - 10
MS.N.SHOBA, CHENNAI 600028
MR.MADHURAM SUNDARESAN, CHENNAI 600035
VAANAVARAYA FINANCE & INVESTMENT	D. GANESH, KANCHIPURAM - 631501
Sri RAJESH KUMAR, ANBARASU CHIDAMBARAM, CHENNAI-600028
SRI S.ANANTHARAMAN,CHENNAI-600078
SRI S.SANKARANARAYANAN, CHENNAI- 600042  
MS.N.RANJANI ,CHENNAI - 600018   
SMT N.PREMA, CHENNAI-600018   
SRI S.NATARAJAN,CHENNAI-600018   
SRI R NARASIMHAN, CHENNAI - 600096  
Sri C. DHANANJAY TRIVEDI, CHENNAI - 600040
Sri R Ramasubramanian, Chennai - 600044
Sri R KALYANAMORTHY,Chennai - 44
Sri Chandrasekara Bharathi, Chennai - 60017
Sri R Kalyanasundar, Mumbai - 400081
Sri S. RAMACHANDRAN, I.A.S. (RETD), CH-61
Sri K. RAGHURAMAN, CHENNAI - 106
MRS. SITABAI SUBRAMANIAM, CHENNAI - 20
Sri RAVINDARAN, CHENNAI - 61
Sri K. JAYARAMAN, CHENNAI-102
RADHAMMAL VARDHAPILLAI TRUST	PARTHIBAN .G, KANCHIPURAM
DR. O. PRABHAKAR, CHENNAI-20
MR.S.VENKATRAMAN, CHENNAI 600091
MRS.VANI MANTUM	,CHENNAI 600017
MR. GOPALAKRISHNAN,CHENNAI 600017
MRS MALINI BALAJI	SUDHA SUNDARAVARADAN, BANGALORE - 34
Sri SHANKAR RAM, CHENNAI - 17
Sri V THIAGARAJAN, KANCHIPURAM - 631501
MR.RAMESH SADASIVAN & MRS.LALITHA MANI, CHENNAI
Sri V. SETHURAMAN, CHENNAI - 600028
Ms. M. SANTHI, CHENNAI - 17
Sri D. BAGAVAN, TIRUCHIRAPALLI - 620018
MR.A.S.KALYANAM, CHENNAI 600033
SRI P.SHANMUGHAM, TIRUNELVELI TOWN - 627006
Sri V. VISHWANATHAN, NAGPUR - 440010
Sri RAJAMANI, CH-61
MR.T.S.CHANDRASEKARAN, KANCHIPURAM 631502
MR.N.SUBRAMANIAN, NEW PERUNGALATUR 600083
Ms SUBHASHINI J, CHENNAI - 90
Ms. VIJAYALAKSHMI RAMESH, CHENNAI
Smt. MALATHY, CH-44
MR.R.SRIDHAR, CHENNAI 600033
VIDYANIKETAN PUBLIC SCHOOL	G. ANNAPURNA, BANGALORE - 560056
Sri A. RAJESH ARJUN DAS,CHENNAI - 600010
Sri N AKSHAY RAJGOPALAN, CHENNAI 600017
MRS. AISHVARYA NATARAJAN, CHENNAI 600017
MR.B.NATARAJAN, CHENNAI 600017
MS.SUDHA NATARAAJAN,CHENNAI 600017
MR.G.VEERA RAGHAVAN,CHENNAI 600078
SRI P.VENKATESH,CHENGLEPET DIST - 603202  
SRI R. THAGARAJAN, VADODARA - 390008
SMT LAKSHMI SAIKUMAR, CHENNAI - 600023
Ms S. GOWRI, CHENNAI - 4
K. VISWANATHAN, CHENNAI-43
MR.R.RAMACHANDRAN,CHENNAI 600033
MR.R.SRIDHAR,CHENNAI 600033
Prof.Dr. Gowri, VC, University of Madras
MS. S. APRANA,CHENNAI 600033
MR.K.VAITHYANATHAN,CHENNAI 600033
Ms. V. SOWMYA, CHENNAI 600033
MR.V.VENKATESH, CHENNAI 600033
MR.N.VISWANATHAN, CHENNAI 600024
MR.N.GOPALAKRISHNAN	, COIMBATORE 641046
MS.SANTHI RAMACHANDRAN, CHENNAI 600091
JAIGOPAL GARODIA HINDU VIDYALAYA MAT. HR. SCHOOL, CHENNAI - 17
SRI G.GOVINDARAJ,KANCHEEPURAM - 631501
SMt. R USHAMEENAKSHI, TIRUNELVELI - 627357
Sri VENKATASUBRAMANIAN, BANGALORE - 560078
Sri V. NAGARAJAN, CHENNAI-45
Sri. KRISHNAMOORTHY R, CHENNAI-45
Smt. C. SHANBAGAVALLI, CHENNAI - 17
MRS. R. BHAGYALAKSHMI, CHENNAI 600033
MR.B.VENKATRAMAN ,CHENNAI 600061
MRS.P.K.MEENA, CHENNAI 600116
SANKARA AGED CARE CENTRE INMATES, CHENNAI 600044
SRI V.KALAVATHY, CHINNA KANCHEEPURAM 631503
MR. A.KAMALAKANNAN M.E, THIRUVANAMALAI
MR.S.SAI PRASANTH, CHENNAI 600114
S.MADHAV CHANDLER, ARIZONA USA
CARE OF DR.T.K.SHARMARAJ M.B.B.S
MR.M.B.RAAMACHANDRAN, CHENNAI 600004
MR.RAMACHANDRAN, TRICHY 620017
SRI.K.THIAGARAJAN, CHENNAI
SRI.ABARAJITHAM, KANCHEEPURAM
MR.S.S.GURUMOORTHY, CHENNAI 600033
MR.E.MOHANAN S/O A.ELLAN, KANCHEEPURAM 631001
SMT.S.DURGA, UDUMALPET 642126
SRI.N.SUBRAMANIAN, CHINNA KANCHEEPURAM 631501
Ms. P.BANUMATHY, KANCHIPURAM 631502
MRS.PKABHAVATHI BHATT, CHENNAI 600094
MRS.HEMA VISWANATHAN, KANCHIPURAM 631502
MRS.VISWANATHAN, KANCHIPURAM 631502
MRS.ARURADHA RAJARAMAN, KANCHIPURAM 631502
SHRI.S.R.NAGARAJAN, CHROMPET 600044
MR.SURESH KUMAR DAVEY, CHENNAI 600030
MR.CHANDRASHEKHAR SUBRAMANIAN, CHENNAI 600042
MR.SUBRAYA TRIVED T.V., CHENNAI 600094
MR.P.J.RAMAMURTHY, CHENNAI 600017
MR.T.S.VENKATESA IYER, KANCHEEPURAM 603403
MR.M.RAMACHANDRAN & FAMILY, KANCHIPURAM 631501
MR.N.KRISHANAN ,CHENNAI 600088
MR.A.THUNAI VEL, KANCHEEPURAM 631501
MR.T.DEVARAJ, KANCHEEPURAM 631501
MR.K.B.SURYANARANAN, CHENNAI 600028
MR.N.RAVICHANDRAN, THIRUVANNAMALAI
MR.M.SHAKTHIVEL, BIG KANCHEEPURAM 
Ms.P.SUGANTHI, CHENNAI 600073
MR.J.SIVAKUMAR, CHENNAI 600125
MRS.VIDYA SUNDAR, KANCHIPURAM 631502
MR.R.CHANDRA MOULI, CHENNAI 600044
Ms. SHIVA PRIYA .S, VILLUPURAM 605602
Mrs.AMRITA Ajit,Chennai-600088
Ms. N.Mangalam,Chennai-600044
Sri Ganesh and fly, Chennai-600044
Sri TaraknathSundaram,Chennai-600088
Sri S.N.Venkatesan and Smt.R.M.Swarnalatha, Kanchipuram-631501
Sri N.Balasubramanian, Chennai-600127
Smt.S.Choodamani, Kanchipuram-631502
Smt.Vijayalakshmi Radhakrishnan, Trichy-620006
Sri V.Kanchi,Kanchipuram-631502
Sri R.Sekar,Chennai-600018
R.Venkatasubramanian,Kanchipuram-631501
V.Poonkothai,Kanchipuram-631502
Sri V.Raju,Kanchipuram-631502
Sri VenkatramanMurali, Chennai-600020 
B.Shivakumar,Chennai-600090
Dr.A.Sampoorani, Chennai-600028
S.Swetha, Chennai-600020
Sri T.V.Jayaraman,Kanchipuram-631502
SRI. JEYANDRA STORES, KANCHIPURAM
SMRITI SURESH & DHRUTI GANESAN, CHENNAI - 20
SMT VASANTHA BALASUBRAMANIAM, CH-44
SRI V. RAMAKRISHNAN, CHENGALPET DIST - 603210
T.A. MOHAN & KOMATHI FAMILY, KANCHIPURAM - 2
MRS. S.V. SAGUNTHALA, CH-44
T.K. AJAYAN, KANCHIPURAM
SMT PREMA EKAMBARAM, KANCHIPURAM
SRI T.V. PADMANABAN, CHENNAI - 600061
K. SURESH, CH-20
P SRIKANT, CHENNAI-600078
Sri V.Kaleswaran, Chennai-600063
Sri S.Mahadevan, Kanchipuram-631502
Sri M.Sundaresan,Chennai-600023

---