Pujyashri Acharyas to bless programmes in Chennai tomorrow - 22 April 2017 (Saturday)

HH Pujyashri Shankara Vijayendra Saraswathi Shankaracharya Swamigal will bless the Akhanda Tirupugazh programme by Tirupugazh Anbargal at Hemamalini Kalyana Mandapam at 4 pm .

HH Pujyashri Jayendra Saraswathi Shankaracharya Swamigal and HH Pujyashri Shankara Vijayendra Saraswathi Shankaracharya Swamigal will bless the Sangeeta Mummoortigal Tiruvizha at Vani Mahal, TNagar, at 6 pm.

Launched - www.kanchimuttseva.org - to facilitate online contributions for sevas
Shrimatam camp at Chennai Thoraipakkam - 24 April onwards
Anugraha Bashanam at Chennai - 19 April - Audio Added
Ratha Parayana Poorthi- 19 April 2017
Veda Parayanam held at Swamimalai - 4 Mar - 1 Apr 2017
Shankara Jayanti Mahotsavam at Shrinagar, Jammu & Kashmir - 23 April - 30 April 2017
Sri Shankara Jayanti at Tiruvannamalai Sankara Matam - 24 - 30 April 2017
Sri Kamakshi Ambal on Swarna Simha Vahanam- 30 March 2017
Pujyashri Acharyas return to Kanchipuram - 23 March 2017
श्री काँची कामकोटि पीठम - हिन्दी में समाचार
Read more...
Shri Amarnath Yatra Phalam
Telugu Translation Published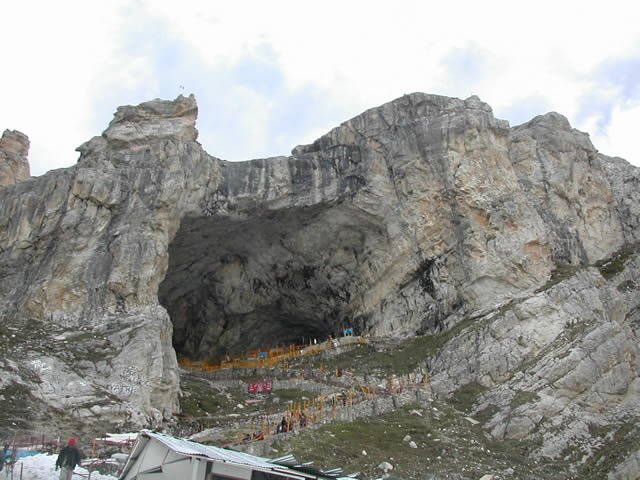 Holy Amarnath Cave
His Holiness at the Amarnath Shrine
Jammu & Kashmir is home to a large number of ancient places of spiritual importance. Of the many such Kshetras, the well-known Shankaracharya Hill is situated in Srinagar. The Holy Amarnath Yatra is a pilgrimage undertaken by the pious from all parts of our country. Shri Amarnath Mahatmyam is a treatise present in the text called Bringeesha Samhita. The Bringeesha Samhita contains the Mahatmya of other Teerthas and Ksehtras of Kashmir including the famous Kheer Bhavani Temple.
The importance of the Amarnath Yatra, and the procedure to perform it is explained in detail. The Sanskrit and Tamil versions of the Amarnath Mahatmyam has been compiled and brought out as a booklet as directed by Their Holinesses Pujyashri Shankaracharya Swamijis of Shri Kanchi Kamakoti Peetam, Kanchipuram for the benefit of devotees who plan to undertake this holy pilgrimage. The text was translated from its original in Sanskrit into Telugu.
The soft copy of the book is hosted here as a pdf file -
---
Click here to Download the book
---
Other related links:
Focus Kashmir -Activities of Shri Kanchi Kamakoti Peetam in Kashmir
Temples of Jammu & Kashmir - Photo -feature
Avantipur – By eminent Archaeologist – Dr. R. Nagaswamy – Notes on the magnificent temple built by Raja Avantivarman of Utpala Dynasty
---