Page load depends on your network speed. Thank you for your patience. You may also report the error.
Loading...
Gomantak Tirupati Balaji Mandir -Kumbhabhishek held- 19 March 2012
With the blessings of Their Holinesses Pujyasri Shankaracharya Swamijis of Shri Kanchi Kamakoti Peetham, the Kumbhabhishek (Brahmakalash Punar Pratishta Ashtabandhana Mahakumbhabhishek Mahotsav) of Gomantak Tirupati Balaji Mandir took place on 19 March 2012 in the benign presence of His Holiness Kanchi Kamakoti Peetadhipati Jagadguru Pujyasri Jayendra Saraswathi Shankaracharya Swamiji. His Holiness Srimad Shivananda Saraswathi Swamiji of Shri Kaivalya Math graced the occasion of Mahakumbhabhishek.
Earlier, Poornahuti was performed in the presence of HH Pujyasri Jayendra Saraswathi Shankaracharya Swamiji, followed by Kumbhabhishekam and Sahasra Kalasabhishekam. A large number of devotees participated in the kumbhabhishek ceremony. Mahaprasad was served to all the devotees in the Shankar Math Sankul.
The sthapan and kumbhabhishek of the Gomantak Tirupati Balaji temple was performed by His Holiness in April, 2000. Recently, a Shankar Math Sankul has also been built in the same campus and was dedicated by His Holiness on 17 March 2012. (See report His Holiness dedicates Shankar Math Sankul at Goa - 17 Mar. 2012)
In the evening, Rathotsav for Lord Balaji and Palkhi(palanquin) utsav for Sri Ganpati were held in the benign presence of His Holiness. Earlier, His Holiness performed Shiv Puja in the evening on the occasion of Mahapradosh.

His Holiness at the Yagashala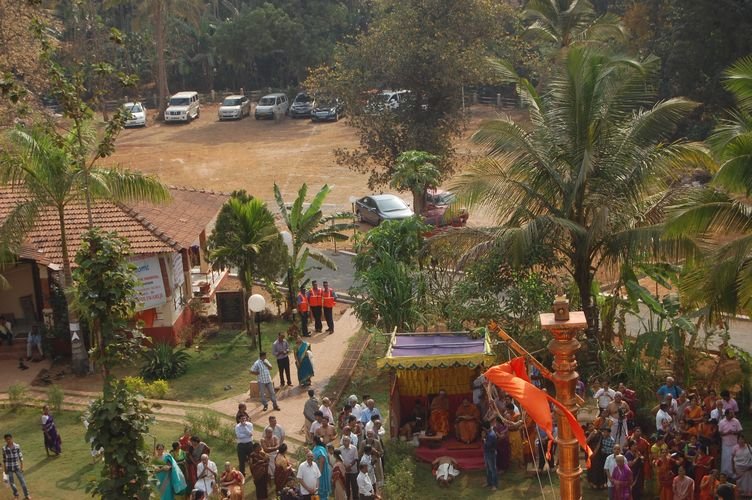 Pujyasri Swamijis watching the Kumbhabhishek

Kumbhabhishek to the Pradhana Kalash at Balaji's Shrine

Kumbhabhishek- Ganapati and Padmavati Shrines

Rathotsav held in the evening

Ganesh - Palkhi utsav

His Holiness performing Shiv Puja on Mahapradosh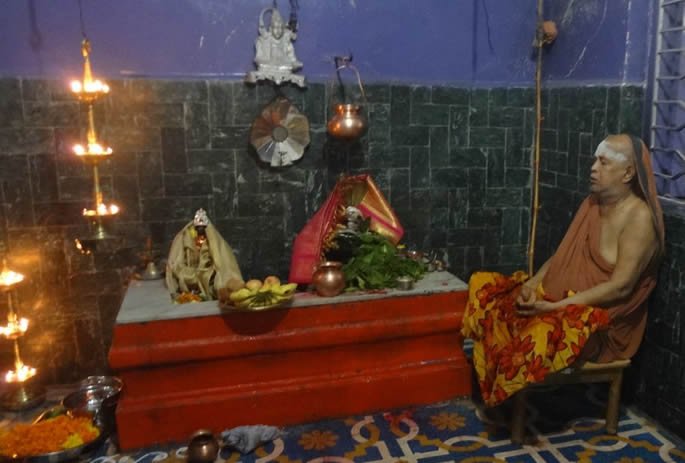 His Holiness performing Shiv Puja on Mahapradosh

---