Page load depends on your network speed. Thank you for your patience. You may also report the error.
Loading...
Aadi Perukku Celebrated
5 August 2011
The 18th Day of the auspicious Tamil month Aadi is celebrated as Aadi Perukku. On this day, it is customary to offer special prayers to the Holy Cauvery River in Tamilnadu.
According to the South Indian tradition, even if one is not residing on the banks of the river Cauvery, one can go to a nearby water body (pond, temple tank, lake etc), invoke the divine river in it and perform Puja. Cauvery Ashtottaram or Lakshmi Ashtottaram Archana is performed followed by Shodashopacharam, Naivedyam & Deeparadhana.
As per the above custom, Pundits of Sri Kanchi Kamakoti Peetam perform special pujas every year in the place of Their Holinesses' camp.

Early this morning , the pundits accompanied by pathashala students, devotees and led by the Srimatam Elephant Jayanti went to the Ekambareshwara temple tank and performed Cauvery pooja. Kalasham filled with holy water was brought to Srimatam and offered to their Holinesses.
Special Naivedyaprasadams were distributed on the occasion.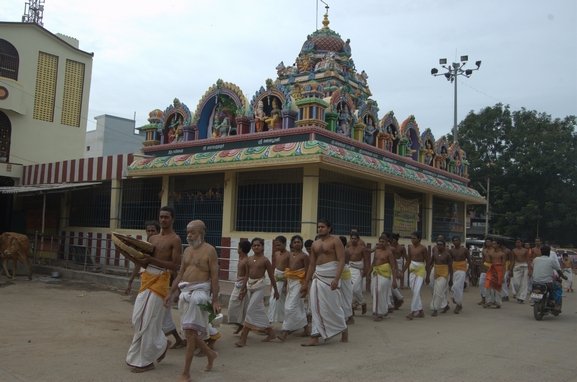 Patashala Students and Pandits going in a procession to the Ekambareshwara Temple
Mangalavaadyam leading the procession
Temple Gopuram in the background
Harati being performed to the Tirtha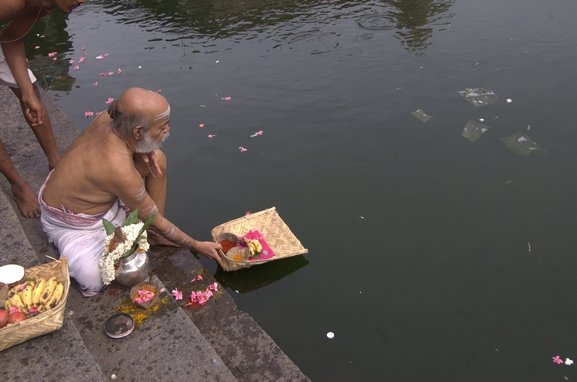 Mangaladravyams being offered in the Temple tank
Sanctified water being carried back to Srimatham in palanquin
Srimatham elephant Jayanthi leading the procession
---
Back to the News Page
---