Page load depends on your network speed. Thank you for your patience. You may also report the error.
Loading...
Shankara Jayanthi Celebrations 2015- Report

23 April 2015
Shankara Jayanthi was celebrated with traditional and devotional fervour at Srimatam camp in Lakshmi Kamakshi Temple, RA Puram, Chennai. After Nitya Chandramouleeshwara Puja, Shankaracharya Avatara Ghatta Parayana was performed in the puja Sannidhi at around 12 noon known as the Abhijit Muhurtha. Shankara Bhagavatpada took avatara in the Abhijit Muhurtha. Special daanams were given.
His Holiness then gave certificates to newly passed Veda Vidyarthis. Special sanmaans were given to Salakshana Ghanapathis. Former Supreme Court Justice Shri S Balasubramaniam participated in the function. Several dignitaries including former Justice NV Balasubramaniam participated.
In the evening the Shankara Bhagavatpada's Utsava Vigraha was taken around in procession to Siddhi Buddhi Vinayak temple, RA Puram through Bishop Garden road, Greenways road, RA puram Cross street. His Holiness was received by the temple trustees and devotees. Harathi was performed in Vinayakar, Chandramouleeshwara & Tripura Sundari and Adi Shankara shrines in the temple.
Special Abhishekams and pujas were performed to the murthi in front of Ayyappa Sannidhi in the satsang hall. Along with Totakashtakam, Acharya Prashasti was rendered.
Two books namely Tirukkuralum Daivattin Kuralum and Rigveda meaning in English (Book published by Bharatiya VidyaBhavan) were released. Tirukkuralum Deivattin Kuralum was released by Former Supreme Court Justice Shri S Balasubramaniam and received by Tamil Nadu government fmr Chief secretary Shri Sabha Nayagam. Rigvedic meaning in English was released by Justice Shri S Balasubramaniam(Retd.) and received by former Chief election commissioner Shri TS Krishnamurthy.
Shri Ramasamy, Chairman of Bharatiya Vidya Bhavan gave the first copy to Retd. Justice NV Balasubramaniam with the Blessings of His Holiness.
His Holiness then gave Anugraha Bhashanam. Later the procession returned to Srimatam camp through Kamarajar salai at around 9:30 pm. The Nadaswaram group en route played kritis and also in various stops.
Devotees accompanying the procession chanted Jaya Jaya Shankara Hara Hara Shankara apart from other songs & bhajans.
On reaching the temple His Holiness commenced the Soundarya Lahari Utsavam in the Sannidhi of Kamakshi Devi. His Holiness then performed the third kala puja
Excerpts from His Holiness' Anugraha Bhashanam:

In His Anugraha Bhashanam, His Holiness spoke about the greatness of Shankara Bhagavat Pada. His Holiness said that during 24 years of Sanyasa period of Acharya, Acharya undertook Padayatras in the nook and corner of Bharat Desha even when there were no facilities. Born in Kalady in Southern tip of India, Shankara Bhagavatpada visited far distant shrines of Kedarnath, Badrinath, Pashupatinath etc and that even today the people in those places proudly say that Shankara Bhagavatpada regulated the worship method. His Holiness said that Shankarachaya never propounded any new theory but gave clarity to the message of Veda & Vedanta and strengthened Sanaatana Dharma.
Quoting various Bhashya Vakyas from Taittriya Upanishat, His Holiness said Acharya has stressed the need to respect parents. In the "Matru Devo Bhava, Pitru Devo Bhava, Acharya Devo Bhava" mantras Acharya has commented that all the three should be revered as gods " Devatavat Upasya". His Holiness told the gathering the need for Acharya Bhakti and devotion towards Guru Parampara for a satisfied life.

His Holiness mentioned that Kanchi Paramacharya (HH Pujyashri Chandrasekharendra Saraswathi Shankaracharya Swamigal) in a Shankara Jayanthi speech had said that it is because of Shankara Jayanthi that other Jayanthis are being celebrated in India, meaning that Shankara Bhagavatpada removed the 72 durmatas prevalent at that time and paved way for Shanmata Sthapana thereby protecting the Vaidika Sanatana Dharma.

His Holiness also said that Acharya through various treatises has guided the humanity for a purposeful life. Through Bhaja Govindam Acharya has told about the various Samsaric attractions which humanity faces and the way out of it is to propitiate the name of Govinda. In Prashnottara Ratna Malika, Acharya has laid out as to what to do and achieve in life. Elaborating the Upanishat Vakya " Satyameva Jayate" His Holiness said that Acharya in his Bhashya has written that truth (Satyam), by itself, does not win or lose but one who is truthful (Satyavan) always wins. His Holiness also said that Acharya in his Sutra Bhashya has conveyed that, wherever we see any good and acceptable truths, even though small, it should be received and adhered to. Quoting another word "Dharmotkarsha" used by Acharya in his Bhashya, His Holiness told that everyone should receive the blessings of Acharya and cultivate Dharma and be recipient of Guru & Daiva Anugraha in their lives.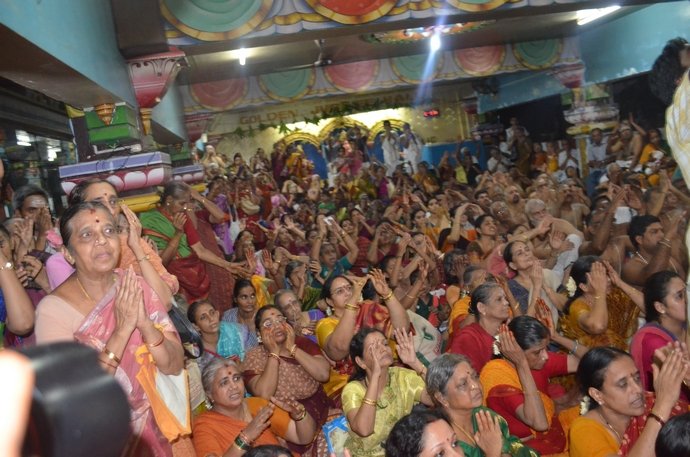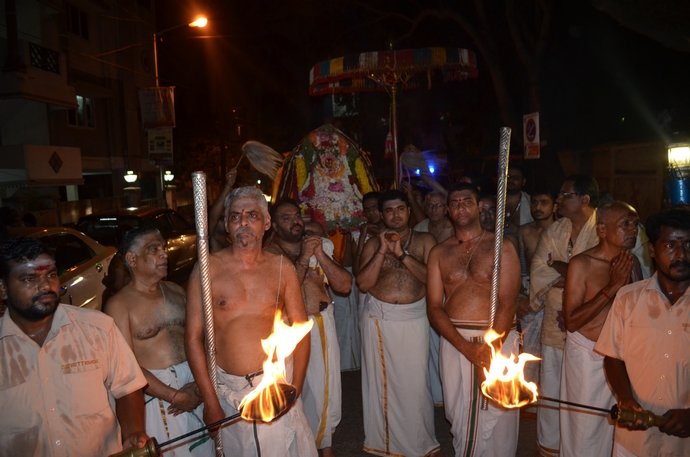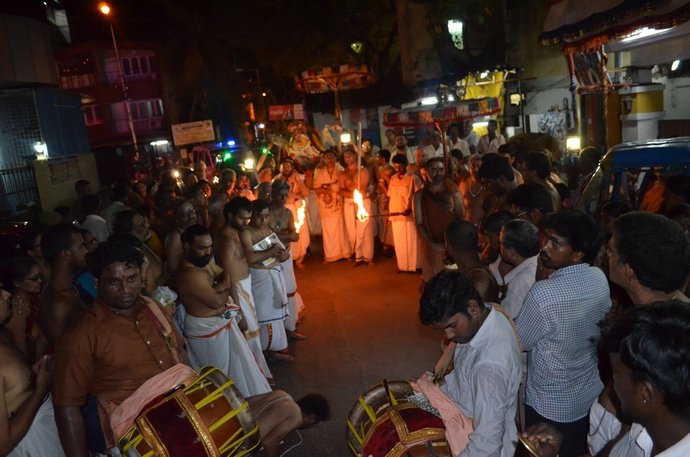 ---
---