Page load depends on your network speed. Thank you for your patience. You may also report the error.
Loading...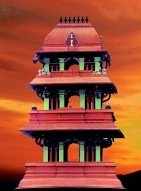 121st Jayanti Celebrations of
HH Pujyashri
Chandrasekharendra Saraswathi Mahaswamiji
at Secunderabad
12 June 2014
The 121st Jayanthi Mahotsavam of His Holiness Pujyasri Chandrasekharendra Saraswathi Shankaracharya Mahaswamiji, 68th Pontiff of Sri Kanchi Kamakoti Peetam, will be celebrated at Sri Kanchi Kamakoti Sankara Mandir-Hanuman Mandir, Skandagiri, Secunderabad on Thursday, 12 June 2014, 8.00 am onwards. Mahaganapati Homam, Navagraha Homam, Aavahanti Homam - Ayushya Homam, Veda/ Upanishad Parayanam, Ekadasha Rudrabishekam, Trishati Archana and Deeparadhana will be performed, followed by Annadaan.
For more information, contact 040-27504300 , sankaramandir@gmail.com

ALSO READ:
121st Jayanti Mahotsavam - Celebration at Shrimatam, Kanchipuram
---
---