Viswaroopa Yatra performed
Kanchipuram - 19 Sep. 2013

Their Holinesses Pujyashri Jayendra Saraswathi Shankaracharya Swamiji and Pujyashri Sankara Vijayendra Saraswathi Shankaracharya Swamiji performed Viswaroopa Yatra on Thursday - 19th Sep. 2013. Devotees, patashala teachers and students gathered in large numbers at Shrimatam on the occasion. They received the Blessings of His Holiness in the form of Anugraha Bhashanam before the commencement of the Yatra. A book in Tamil on "Temples in the Unified Arcot District" was released by His Holiness. As is customary, the Vigraha murthi of Shri Adi Shankaracharya was brought in procession from Shri Kamakshi Ambal temple to Shrimatam and harati was performed to Shri Shankara in the presence of Their Holinesses.
At around 5.00 pm, Yatra daanam was performed in the Nitya Puja Mandapam at Shrimatham and the yatra commenced. Their Holinesses proceeded on the Vishvaroopa Yatra in a procession. A large number of vedic scholars and students chanted vedic mantras and the Vishnu Sahasranamam. The the gowrikalai and mangala vadyam, considered auspicious, accompanied the procession which was led by the Shrimatam Elephants.
Temple prasadams from the Pachaivannar Perumal Temple and the Mrityunjayeswarar Temple enroute were offered to Their Holinesses. The Semmollanganam was performed by crossing the Kanniyaman Temple on the Northern side of the Kanchipuram Town.
The procession entered the Indra Nagar locality and culminated in the Society Hall there.
Puja to Krishna commenced with the Shloka
Vasudeva sutam Devam, Kamsa Chanoora Mardanam I
Devaki Paramanandam Krishnam Vande jagadgurum II
After this, the XI Chapter of Srimad Bhagavad Gita was chanted. The assembled scholars, students and devotees repeated the verses from the Bhagavad Gita. The puja concluded with deepa Aradhana for Lord Krishna. His Holiness Pujyashri Shankara Vijayendra Saraswathi Shankaracharya Swamiji blessed the devotees with Anugraha Bhashanam in which He outlined the significance of Chaturmasya, the importance of today's Viswaroopa Yatra and Seemollanganam-(crossing the border). His Holiness said that the Krishna Avatara was not merely about slaying evil, but was significant in giving us the Bhagavad Gita. His Holiness mentioned that any activity - whether it is Vedic Chanting, or Japas, or Yagnyas - will be fruitful only if it is done with the Bhakti Bhava, and blessed the devotees to have this Bhakti Bhava in all their deeds. Prasadam was distributed to devotees.
Every year, the Viswaroopa Yatra is performed on the Bhadrapada Poornima day , signifying the conclusion of the Chaturmasya Vratam – that begins with the Vyasa Pooja on the Ashada Poornima day.

Shri Adi Shankaracharya's Utsava Murthi at Shrimatam Entrance

His Holiness worshipping Adi Shankara

His Holiness receiving Prasadam

Deeparadhana to Adi Shankara

Shri Adi Shankara's Utsava Murti at Shrimatam Entrance

His Holiness offering a Parijata mala at the Adhistanam

Anugraha Bhashanam to the assembled Vedadhyayees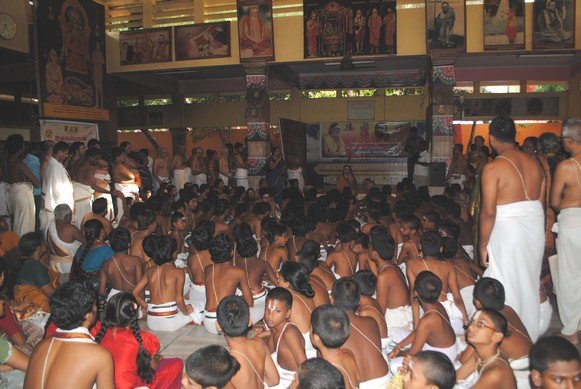 Anugraha Bhashanam

His Holiness releasing the Tamil book "Temples in the Undivided Arcot District"

His Holiness starting on the Viswaroopa Yatra from Shrimatam

His Holiness starting on the Viswaroopa Yatra from Shrimatam

Their Holinesses leaving for Viswaroopa Yatra from Shrimatam

At Shrimatam Entrance

His Holiness on the Viswaroopa Yatra - Shrimatam Gopuram in the background

His Holiness in the Viswaroopa Yatra - The rickshaw used during padayatras seen in the foreground

"Gowrikalai " Instruments being played at the procession head

A view of the procession

A view of the procession

His Holiness offering prayers as the yatra crosses the Mrityunjayeswarar Temple

The temple priest offering Mrityunjayeswarar prasadam to Their Holinesses

His Holiness being received with traditional poornakumbam

His Holiness being received with traditional poornakumbam

Their Holinesses receiving Harati

A section of the Patashala vidyarthis who took part in the event