Page load depends on your network speed. Thank you for your patience. You may also report the error.
Loading...
Veda Parayanam held at Swamimalai on Anusham
15 Aug. 2013
With the benign blessings and directions of Jagadgurus Pujyasri Shankaracharya Swamijis of Shri Kanchi Kamakoti Peetham, Veda Parayanam was held at Sri Swaminatha Swami Temple, Swamimalai on 15 Aug. 2013 on the occasion of Anusham. The Parayanam in Rig, Krishna Yajur, Sukla Yajur, & Jaimini Sakha of Sama Vedam was performed by 10 Veda Vidwans. Photos of the Veda Pandits performing Parayan:
2. Nithya Veda Parayanam in Rig Vedam is being held regularly.
The next parayan will be held on :
10-09-2013 - Sukla Shashti Parayanam (4-6 pm)
11-09-2013 - Anusha Parayanam (4-6 pm)
11-09-2013- Vyasa Puja Vastra Samarpanam to Shri Swaminatha Swami
11-09-2013 to 14 -09-2013- Atharvana Veda Poorna Parayanam (Morning & Evening)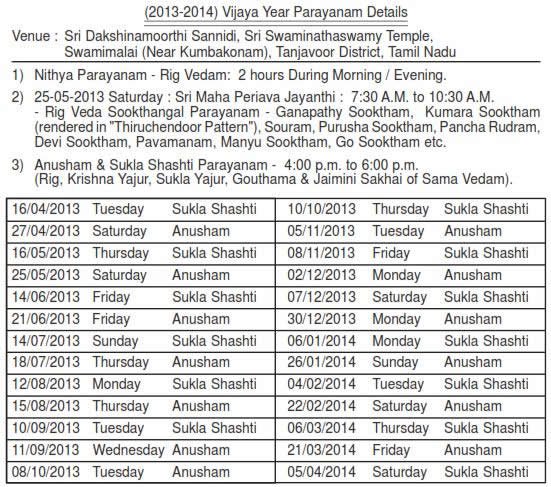 **************************************************************************************************
Click here to read:
Details about the MONTHLY ANUSHA & SHUKLA SHASHTI VEDA PARAYANAM AT SWAMIMALAI
Atharvana Veda - His Holiness' initiative
About Swamimalai Veda Parayanam - with latest dates and write-up in Tamil
---
SWAMIMALAI-Tamil Nadu
It is situated on a small artificial hillock near Kumbakonam, Tanjore district. The six feet tall idol is known as Swaminatha, who is reputed to have initiated his father Siva into the power and meaning of OM the Pranava Mantra. The temple for Swaminatha, the son, is on a higher pedestal than that of the father(Siva).
---
---