Page load depends on your network speed. Thank you for your patience. You may also report the error.
Loading...
RIG SAMHITA HAVAN performed
at
Bhopal, Madhya Pradesh
16th - 25th October 2013

With the Benign Blessings of Madhya Swamimalai Shri Swaminatha Swami and Their Holinesses Pujyasri Shankaracharya Swamijis of Shri Kanchi Kamakoti Peetham, Rig Samhita Havan was performed from 16th to 25th October 2013 at the Madhya Swamimalai Mandir in Bhopal, Madhya Pradesh. Go-Puja was performed on all days. Sankalpam was performed, following which the Rig Samhita Havan and Parayanam commenced. Rig Samhita Havan was held in the mornings from 7.30 am to 11.30 am. In the evening, Swasti Vachanam, Totakaashtakam, Sahasranaama Parayanam and Pavamaanam were chanted. The Poornahuti took place on 25th October 2013.

Go-puja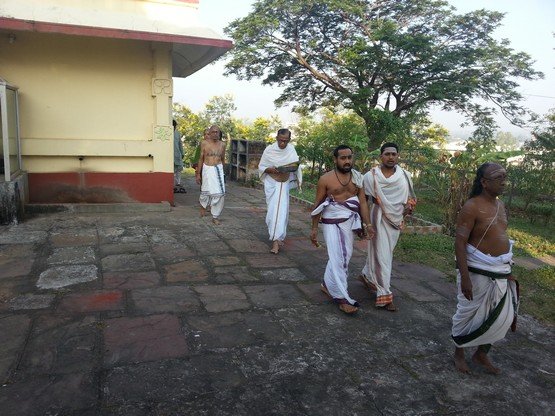 Pradakshinam

Sankalpam

Puja being performed at the various Sannadhis inside the temple

Parayanam in the Shiva Sannadhi

Rudrabhishekam on the auspicious "Pradosha"

Havan being started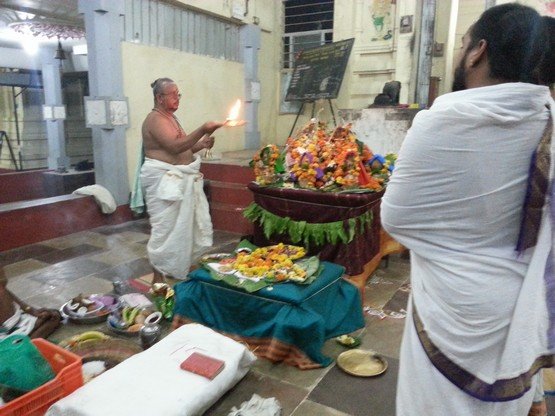 Deeparadhana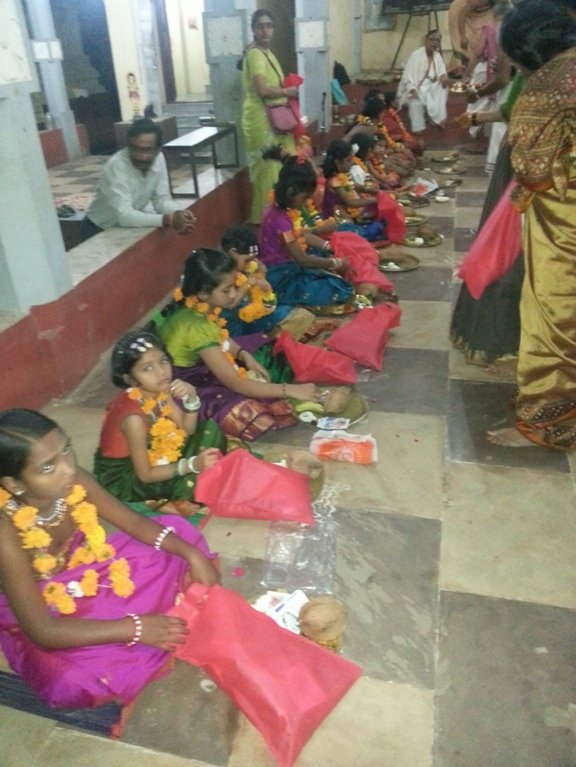 Kanya Puja-Suvasini Puja

Kanya Puja-Suvasini Puja

Gopuja

Poornahuti

Poornahuti
Poornahuti

Abhishekam being performed to Shri Swaminatha Swamy
Rigveda contains ten Mandalas, 1028 Suktas & 10552 mantras. As prescribed in the Shastras, the Rig Samhita Havan is performed by Rigvedis with offering of ghee and tila to the Devatas mentioned in the Mantras with Swaahaakar. For every Sukta, the Devata, Rishi and Chanda (Metre) is recited and thereafter the ablutions are offered. The whole Rigveda Samhita is chanted in this manner. The performance of Rigveda Samhita Havan results in Vishwa Shanti & Papakshaya. The ancient text 'Rig Vidhanam' has many instances of the manifold benefits of the mantras of the Rig Veda.
Devotees are invited to participate in the havan and receive the blessings of Shri Swaminatha Swamy & Jagadguru Shankaracharya Swamijis of Shri Kanchi Kamakoti Peetam.


For more info., contact Mobile: 09425004528, 09826939306, 09159474722, 09840414742 .

Madhya Swamimalai- Bhopal
Back to news page
---