Page load depends on your network speed. Thank you for your patience. You may also report the error.
Loading...
Adhistanam at Tiruvenkadu
The Adhistanam of the 57th Peetadhipati of Shri Kanchi Kamakoti Peetam Sri Paramasivendra Saraswati II is located in Tiruvenkadu near Sirkazhi in Tanjore district. Tiruvenkadu is the Tamil Translation of "Shwetaranya". The Acharya attained mukti here on Sukla Dasami in the month of Sravana of the cyclic year Parthiva (1586 AD). Inside the serene and green temple complex, there are sannadhies of Shri Mahaganapathy, Shri Balasubramania Swamy, Shri Bhairavar, Shri Suryan and Shri Dakshinamurthy
The Acharya was the son of Parameswara, native of a village on the bank of the river Pampa. He was known as Sivaramakrishna before Sanyasa. He was the Guru of the great Sadasiva Brahmendra, the author of the Gururatna malika and the great Brahma Jnani. The greatness of Paramasivendra may be gauged from the fact that Sadasiva Brahmendra used to carry the sandals of the Acharya always on his head. And the greatness of Sadasiva Brahmendra may also be understood by an incident, which is recounted in popular tradition, Sadasiva steeped in the bliss of Brahman, was wandering about as an Avadhuta, to all appearances like a mad man. Some one reported to Paramasivendra that Sadasiva had gone mad. The Acharya is reported to have answered "I wish I had but a touch of that madness". So great indeed was Paramasivendra that Sadasiva Brahmendra has immortalised him in his Atma Vjdya Vilasa. This Acharya wrote a commentary on Siva Gita.
Tiruvenkadu is located at a distance of 12 kms from Sirkazhi, another temple town famous as the birthplace of Tirugnanasambandar. Shri Kanchi Kamakoti Peetam is running a Shiva Agama Patashala at the Avatara Sthalam of Shri Tirugnanasambandar.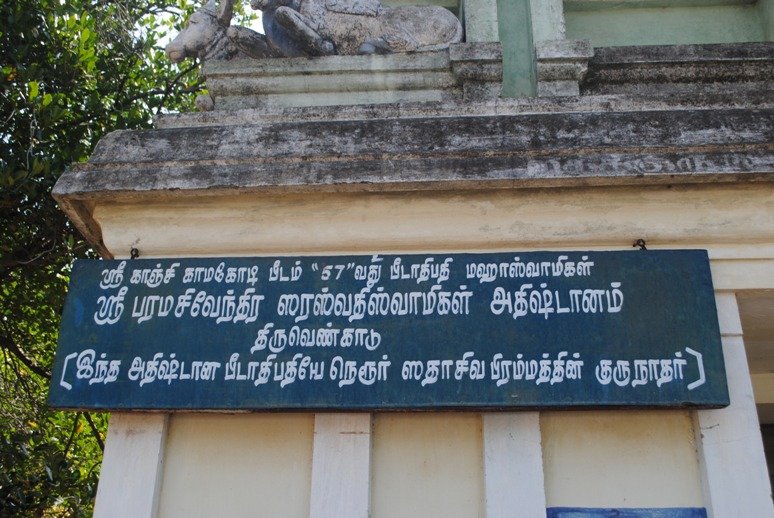 ---
Back to the News Page
---